Church Passes go live every Tuesday at 12pm for the upcoming Sunday. Make sure you reserve for the correct church campus and service time before completing your checkout. Everyone needs their own pass, we cannot add or change your order for you.
Message Notes
The Other Beast // The Last Call // 07.12.20
Revelation 13:11
Deuteronomy 13:1-3
"For I do not want you to be uninformed of the this mystery-so that you will not be wise in your own estimation-that a partial hardening has happened to Israel until the fullness of the Gentiles has come in; and so all Israel will be saved…" Romans 11:25-26a
"It's the call you don't want to miss."
THE FALSE PROPHET...
1. Leads people to worship the Anti-Christ
Revelation 13:12
2. Performs deceiving signs
Revelation 13:13-14
3. Causes a created image to speak
Revelation 13:14-15
*The second beast is copying God's creative power
*Satan's tactics do not change
*Worship the image or die
4. Marks people as a pledge of allegiance to the Anti-Christ
Revelation 13:16-18
Revelation 14:9-11
Revelation 20:4
Discussion Questions
For the week of 07.12.20 // The Last Call
Intro: Read our text from Sunday: Revelation 13:11-18. As we typically ask you, please read it multiple times and write down your thoughts and questions. If you are in a Zoom small group bring your writings with you for discussion. Remember to take your time on this part of our study.
1.Revelation 13:12. Why do you think the authenticating factor for worshipping the first beast/anti-Christ is "his fatal wound was healed?"
2.Double Bonus Jeopardy Question. In Revelation 13:14-15 the false prophet/second beast commands the earth dwellers to make an image to the first beast/anti-Christ. How does this tie to Genesis 1:26-27 and Genesis 2:7? And if you would like to think a bit further, what implication does this have to our society today within the concept of "image?"
3. Read Revelation 13:14-15 again and then read Daniel 3:1-6 and explain the parallels between the two events around 2600 years apart. While you are at it, why do you think these things happen repeatedly in history?
4. In Revelation 13:16-17 we find the anti-Christ's mark of allegiance to him. This mark will show that you're a follower of him and I'm pretty sure modern technology will assist in keeping people from buying or selling without the mark of allegiance. Now this will NOT happen until we are Raptured, and they are well into the7 year tribulation. Here is my question, how have you seen the progression of how we make our purchases helped move toward this type of control? Explain
5. Last thought, why does the anti-Christ need a sidekick? You might want to look at the certain characteristics of his sidekick again in Revelation 13:11-15.
Announcements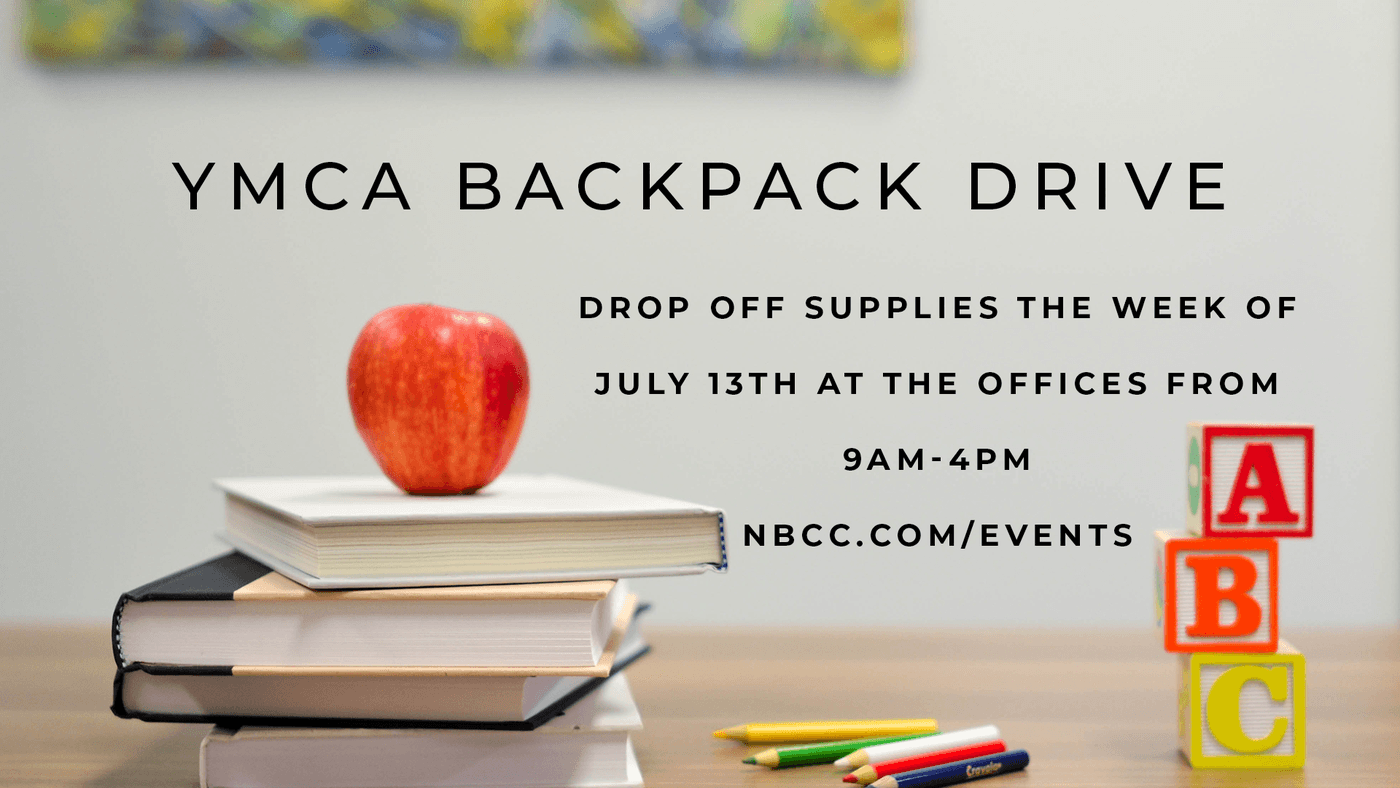 YMCA Backpack Drive
We are very excited to be able to continue our yearly YMCA Backpack Drive. Supplies are due very soon, for more information and a list of supplies follow the link below!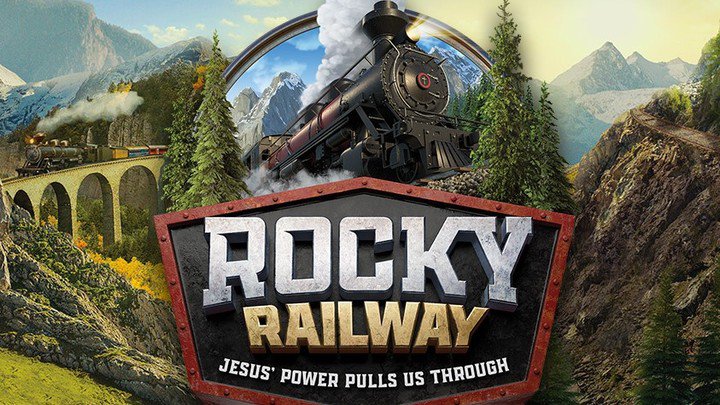 VBS
We can't hold this train back anymore, so Rocky Railway VBS is coming to you! This July, we have a once in a lifetime online VBS planned where kids will be exploring how Jesus' power and their trust in Him, can pull them through life's challenges. We all need that, right?!
Register your child to come along on our journey as some amazing Kids Ministry leaders lead them through the VBS stations, including interactive Bible stories, Imagination Station experiments and kid sized application. When registered, all kids will receive a goody bag with all the memorable and necessary VBS elements ready to go when following along, including an iron-on to have this year's VBS shirt.
It might be a different kind of VBS this year but the fruit is the same, kids will have a fun and engaging time and know that it is Jesus' power that pulls us through life's challenges!
Dates: Monday, July 6th- Friday, July 10th
Times: Premier begins at 6:30pm each night
Ages: Preschool (4&5 years old)
Elementary (Current Kinder- 5th grade)
Cost: $10/kid (Register soon, supplies are limited!)
If you would like to sponsor a kid, please send an email to hello@nbcc.com

NBCC CarePortal
Join us on our Facebook page "NBCC CarePortal" to find ways to connect with and help our foster community and church. How it works, our liaison gets requests from social workers for families they are working with through Care Portal, then we post these requests in the group. Part of the ministry is that you will connect with people in our community and if the opportunity presents itself share the gospel or pray with someone. Meeting their physical needs is just a part of why we do this. Follow here for more information.
Follow us on Social Media...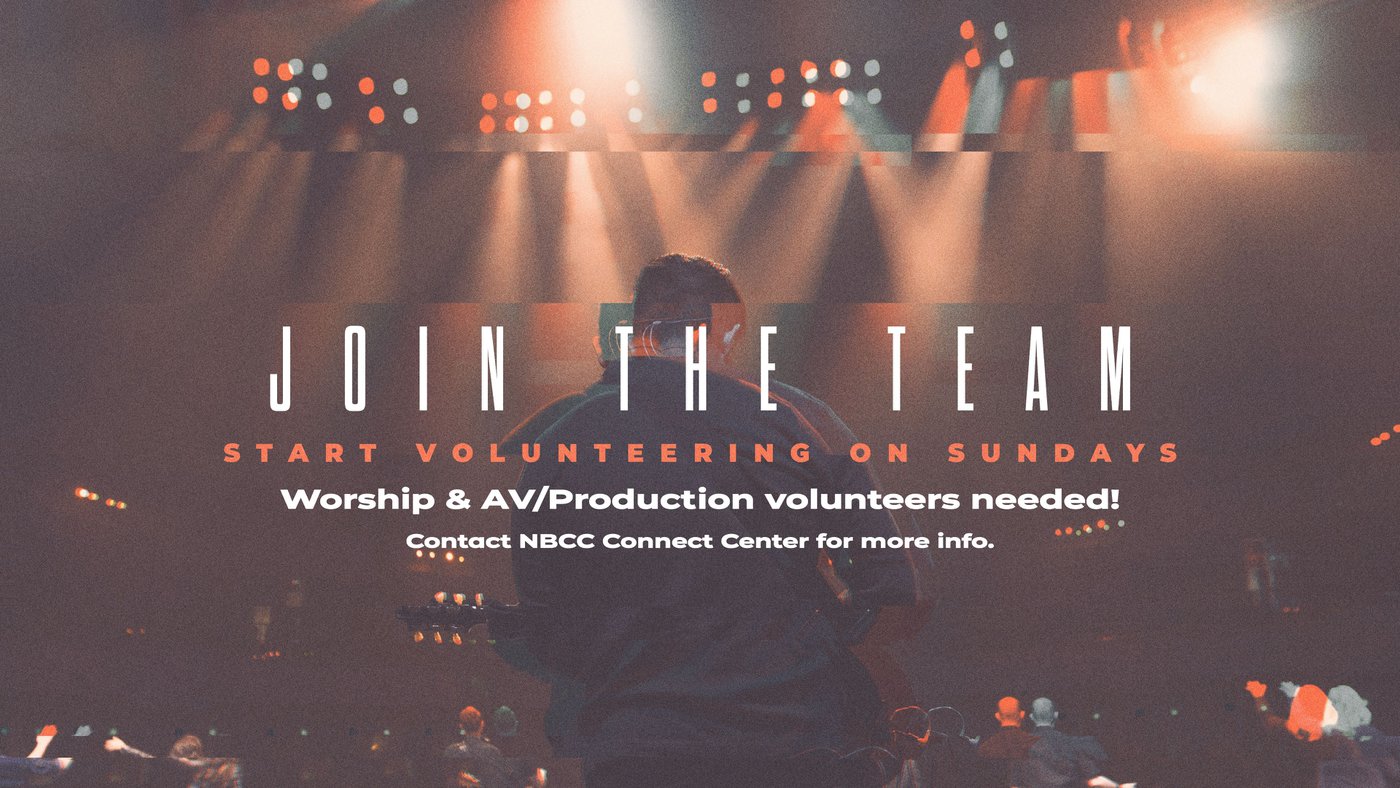 Join The Team
Worship & AV/Production teams are looking for volunteers! If you are feeling called to serve in either of these ministries, visit the Connect Center in between services for more information. Or email hello@nbcc.com
Prayer Request