We're excited for another beautiful Sunday with you! Here are some important facts you'll need to know for Sunday:
Join us online for Digital Service at 9a & 10:30a on Facebook, YouTube, or on this page
In person services are being held Sunday mornings at 9a & 10:30a
Kids Ministry is back BOTH services for ages nursery through 6th grade!
Ave Youth meets during second service in the back right corner of the main sanctuary
Message Notes
My Neighbor // This is Church // 07.25.21
The Samaritan: Felt Compassion
Good Neighbors: Learn to Listen
Compassion Moves You to Move
A Neighbor is Not Defined by Who They Are, They Are Defined by Who You Are
TW Mason says, "A neighborhood doesn't create love, but love does create neighborliness."
Discussion Questions
For the week of 07.25.21 // This is Church
1. What or who needs to move from "Sympathy" to "Compassions" (Who do you need to stop just thinking about and need to begin to feel what they are feeling?).
2. How are you at listing? What and who do you need to learn to listen to better?
3. What are 3 practical ways you can be a good neighbor? And how will that help lead you to share the Gospel?
Announcements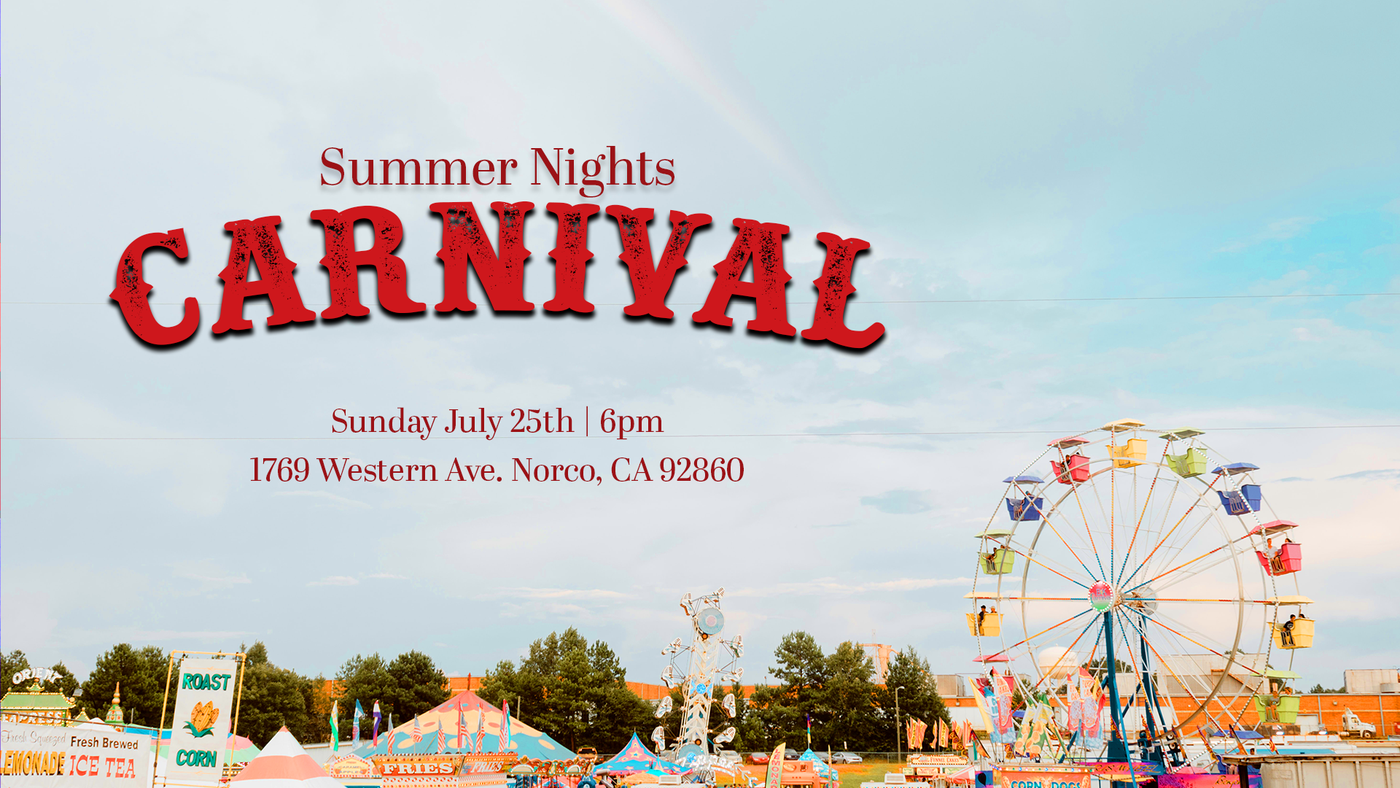 Summer Nights
Our next Summer Night is happening this Sunday at NBCC Norco!! Hosted by our Jurupa Valley Campus, join us for an evening at the Carnival! There will be face painting, balloon animals, funnel cakes, message, and worship! It's going to be a great night! Bring your chairs and your family, we're ready for this awesome night of fellowship!
Location: 1769 Western Ave. Norco, CA 92860
Time: 6pm-8pm
Cost: FREE!
*We will still be having our regular Sunday morning services that day, this is a special event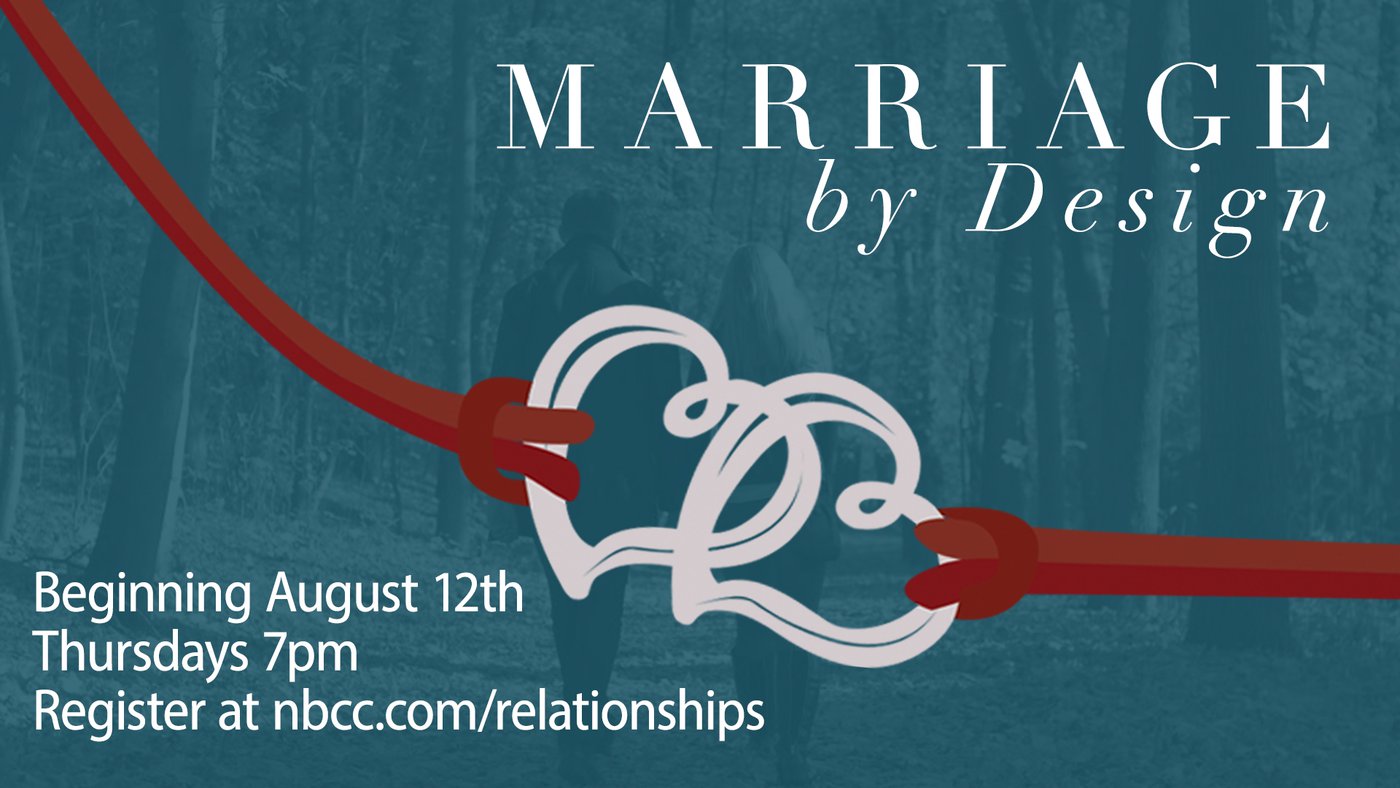 Marriage By Design
Registration for Marriage By Design has opened! This marriage class is designed to teach foundational techniques that will facilitate healing in marriages as we learn God's definition of a successful marriage based on selflessness. Class begins Thursday August 12th at 7pm, and costs $50/couple. Reserve your spot now online at nbcc.com/relationships, space is limited.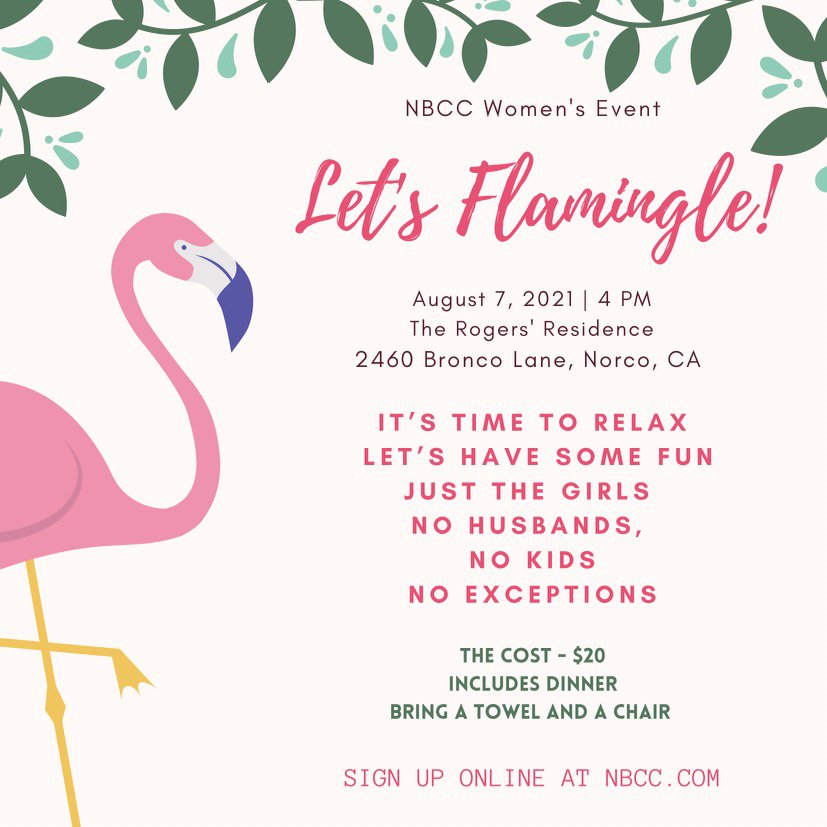 Women's Fellowship
Hey ladies! We've got a special event for you on Saturday August 7th, join us in Norco for an evening of fun, food, and fellowship. We'll be playing water games so make sure you bring a towel and your chair. For details and to register, visit nbcc.com/women
Follow us on Social Media...
Prayer Request